Literature Best Platform for Debate: Dr. Sanaullah Nadvi
Reported on: 2022-10-13
Professor and President's Award winner Dr. Sanaullah Nadvi of Aligarh Muslim University stated that literature is the best platform for debate. He was speaking at the inaugural address of  the National Arabic Seminar organized by the PG & Research Department of Arabic, Farook College on the topic 'Debate and Presentation Skills' on 
He presented cash prizes and certificates of Rs 25000, Rs.15000 and Rs. 10000 to the first, second and third place winners of the debate and versification competitions organized by the department with the auspice of  Dr. Suad Sabah for publication wing, Kuwait and the national level in collaboration with Chemmad Darul Huda.
National Institute of Contemporary Islamic Studies Malappuram, Sabilul Hidaya Islamic College Parapur, Malik Deenar Islamic Complex Kasargod won the debate competition prizes and Karam Hussain Khan Bangal, Muhammad Ansar Kurikal and Tanveer Ahmad won the poem verification competition prizes respectively.
Dr. K. M. Naseer, Principal of Farook College delivered the keynote address. Dr. Yunoos Salim, Head of the Department presided over the programme. Dr.  A.B. Moideen Kutty, Prof. Saad Bin Ali, Abdul Shukur Hudawi, Muhammad Riyaz Hudawi, Dr. Sajid. EK, Dr. Abdul Majeed, Dr. U.P.  Muhammad Abid. U. P, Dr.  Sageerali, Suad Sabah Coordinator Dr. Abbas. KP, Debate Championship Coordinator Dr.  Abdul Jaleel. M, Dr. Tahir also spoke on the occasion.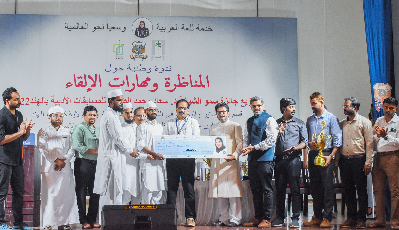 ---