Farook College NSS Units Recognized with State Award for Remarkable Anti-Drug Initiatives
Reported on: 2023-10-27
In a momentous achievement, Farook College's National Service Scheme (NSS) Units have been honored with the State Award for their exceptional efforts in promoting the 'Say No to Drugs' campaign. This prestigious accolade was conferred jointly by the Department of Higher Education and the National Service Scheme, recognizing Farook College's unwavering commitment to creating awareness about the dangers of drug abuse.
The award is a testament to the continuous and dedicated programmes initiated by the Farook College NSS Units, which have significantly contributed to the success of the 'Lahari Mukta Keralam – Say No to Drugs' initiative. This campaign, aimed at educating people about the risks and consequences of drug abuse, is a vital part of the NSS mission to build a healthier and drug-free society.
Dr. Mansoorali T., the Programme Officer of NSS Farook College Unit, received the award on behalf of the college. The prestigious event took place on October 27, 2023, at Vimala College, Thrissur, where the Farook College NSS team was applauded for their outstanding performance and substantial contributions to the 'Say No to Drugs' flagship programme of the State NSS Cell during the years 2022–23.
Expressing his delight, Dr. Mansoorali T., emphasized the importance of collaborative efforts in addressing the critical issue of drug abuse. He stated, "This recognition is a result of the collective dedication and hard work of our NSS team. We are deeply committed to creating a drug-free environment and will continue our efforts to raise awareness and educate the community about the devastating effects of drug abuse."
Farook College takes immense pride in the NSS Units' achievement and acknowledges the importance of such initiatives in shaping a responsible and aware citizenry. The college remains steadfast in its commitment to promoting social welfare activities and creating a positive impact on society.
---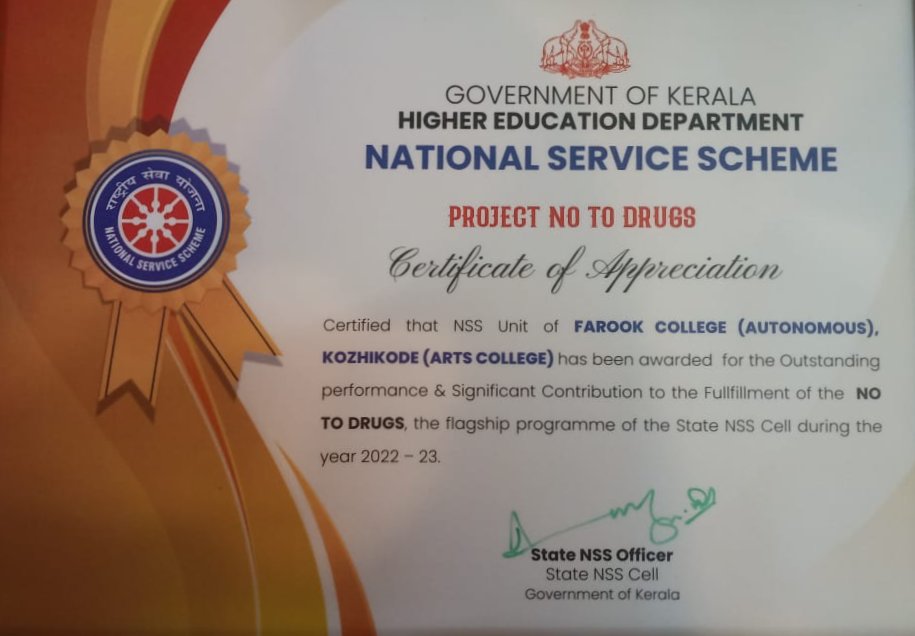 ---