"Earth Matters": Global Environmental Outreach Programme with Roadscholar-USA
Reported on: 2023-10-27
The PG & Research Department of Zoology at Farook College (Autonomous), in collaboration with Roadscholar-USA, conducted a dynamic and engaging global outreach programme titled "Earth Matters: A Global Outreach Programme on Environmental Solutions" on October 27, 2023.
The event served as a platform to discuss pressing environmental issues and explore potential solutions. Programme Moderator was Shagzil Khan, Cultural Interpreter. The programme witnessed the active participation of 15 foreign environmentalists from the United States, representing various disciplines, who connected with faculty members and a select group of 15 students. The programme aimed to foster a global dialogue on environmental challenges and solutions, creating a rich exchange of ideas and experiences.
Student Presentations:
Two students, Adithyan and Ahba Mohamed, were selected to represent the undergraduate (UG) and postgraduate (PG) levels, respectively. They delivered presentations focusing on various environmental issues and proposed recommendations for their mitigation. Their insightful contributions showcased the commitment of Farook College students to addressing environmental concerns.
Sana Nasrin's Interaction:
One of Farook College's students, Sana Nasrin, engaged in a particularly remarkable interaction with the team of foreign environmentalists. Her conversation was lauded for its depth and thoughtful insights, reflecting the dedication and understanding that students at Farook College have regarding global environmental challenges.
The programme was a resounding success in promoting global awareness and collaboration in the realm of environmental conservation. It highlighted the commitment of Farook College's faculty and students to making a positive impact on the world's environmental challenges and underscored the significance of international cooperation in addressing these issues.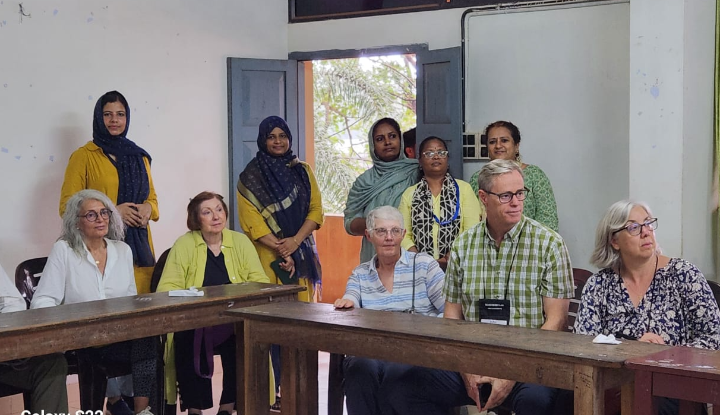 ---