Women's Cell , Farook College (Autonomous), organised "Rangrezz" (Skill Development P
Reported on: 2023-02-23
Women's Cell , Farook College (Autonomous), organised a Skill Development Programme  "Rangrezz"- A two  day  fabric painting Workshop on 22nd and 23rd February 2023. at Room No. 313 Administrative block.
The inaugural session began with welcome address by Naseeha C.P. the Secretary, Women's Cell. Dr. Badhariya Beegum, Chairperson, Women's Cell, presided over the programme. The trainer was Sheeba K.V., Art and Craft teacher, Florist International School and Pidilite North Kerala Expert. Juliya P. the student coordinator of the programme introduced the guest. The inaugural session came to an end by the vote of thanks by Noora V. executive member, Women's Cell. The inaugural session was followed by the training session.There were 40 registered participants for the progarmme. All the participants were supplied with art materials.
 Day 1: Workshop session handling by experts from Pidilite Fevicryl.
Session 1: The trainer gave instructions and demonstrated the shading methods. Participants were actively engaged in the session. 
Session 2: Double shading methods and merging techniques were demonstrated in the session. Principal Dr. K.M. Naseer visited the workshop and encouraged the participants by his motivating words and congratulated them. 
 Day 2. Painting session by trainees.
Session 1: Second day of the workshop began at 9.00 am. Participants were free to draw their own designs.
In the  afternoon session participants finished their paintings. In the feedback session participants were highly excited to share their experience.They were delighted to learn new techniques in fabric painting. Most of them said during the workshop they find some relaxation and felt stress free amidst of the busy academic schedule.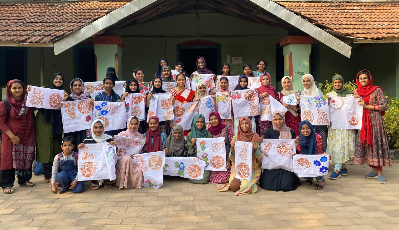 ---