Farook College Bagged First Prize for The Theatre Performance, 'Union of Caukidar'.
Reported on: 2022-10-27
The students of Farook College (Autonomous) bagged the first prize for the theatre performance at "Avant-Garde" jointly organised by the Gender Park and UN- Women at Gender Park International Convention Center, Vellimadukunnu, Kozhikode, Kerala on 27th October 2020.
The programme aimed at equipping students to engage and represent gender attributes both in domestic and public spaces. The gendered divisions are manifested into discrimination, bias, inequality, violence, beliefs and practices.
Keeping this objective the students of Farook College (Autonomous) exhibited a performance on "Union of Caukidar". 
The play was performed by, Fathima Rida, Fathima Zuhrin E.F, Jannath Fazil, Raniya Rafeek, Thoiba Jasmin, Anjali PK, Inaya Mehnaz, Ayisha PS, Alfa E, Basila, Thomas and Saja. The play was organised by Women's Cell (Farook College) in collaboration with Troupes, the theatre club of Farook College.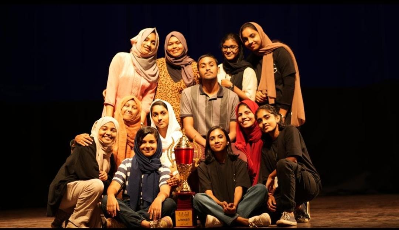 ---