Birdwing Biodiversity Club organized 'Nature Quest' - An Infotainment Quiz Programme
Reported on: 2023-01-31
Birdwing Biodiversity Club of Farook College organized 'Nature Quest' - an infotainment quiz programme on 31st January 2023.  Jithin V  and Adila Farisa K. M. were the quiz presenters. They are the forrmer students of the College (Department of Botany) and quiz matsers of various quizzes. Ms. Naseeha C. P coordinator, Birdwing Biodiversity Club gave the welcome address and introduced the quiz masters.There were 16 teams participated in the quiz.
First prize  bagged by Murshida K and Najda P.M - M.A. History. Second prize winners are Anjala Binth Rafeeq K and Fathima Shaheeda K - B.A. Sociology. Third prize is for Muhammed Ramees K.K. and Fathima Fidha - B.A. Economics.
Principal Dr. K.M. Naseer  addressed the gathering in the prize distribution ceremony. Sana Nasrin, student coordinator of the club proposed vote of thanks.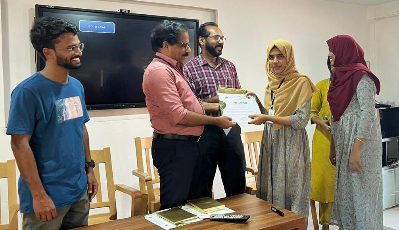 ---